Best VPN Routers-2021
Protecting your information online can feel like searching for the proverbial needle in a haystack. Our financial information seems to be everywhere and surfing online on a public wifi network can feel like surfing with sharks.
Incorporating the best VPN routers into your security system for your computer, phone, or tablet is a great way to give yourself superior security without breaking the bank. 
8 Best VPN Routers
We'll go through several different types of the best VPN routers so you can choose the one that will be the best for your system and your company. Each one will give you a different type of operating system and several different benefits. Choosing the best VPN router can feel like searching for a needle in a haystack but by measuring up different VPN routers here on our list, you'll be able to find one that works best for your home or system.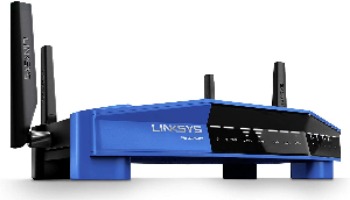 Best Fast Wireless Router
Linksys is one of the best-known brands of VPN routers and offers a wide range of different products that don't break the bank but still give you service and security.
Specifications
2160 Megabits per second

Open source firmware

Tri-stream 160 technology

Multi-User Input Multiple Output for use with multiple devices at once
Highlights
Use with multiple devices at the same high speed

Able to 4K HD stream and game without buffering

Works with certified operating systems including macOS and Windows
Special Features
This is a fast wireless VPN router that gives you quality WiFi coverage for your whole home including using multiple devices at the same speed. This router works with certified operating systems like macOS and windows. The tri-stream 160 technology doubles the bandwidth from 80 MHz to 160 MHz so your whole family and the entire home can enjoy 4K HD streaming and gaming without slowing down the internet connection.
Connections
The Linksys VPN router will connect to any modem and push the signal to any device. You can use this with any operating system and link it with your preferred VPN program.
Performance
For the most part, this router does a great job once connected to keeping you in touch with both the internet and your computer as well as your designated VPN. There have been reports of it overheating or not reaching as far as other wireless VPN routers when used with multiple rooms and multiple devices.
Pros
Easily accessible

Works across a wide range of operating systems

Allows for speedy streaming on multiple devices
Cons
Has been reported to overheat

Can be more expensive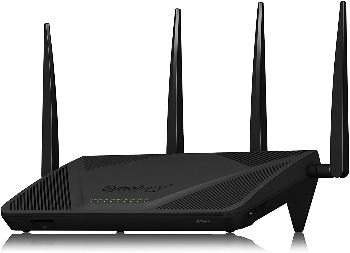 Best Powerful Router
If you're constantly transitioning between maximum speed and the range across the whole house, this router is for you! It's calibrated to offer load balancing and failover support without overheating and causing issues with your connectivity.
Specifications
2.53 gigabits per second

Large coverage area

Seamless transition between max speed and range

Dual WAN for load balancing and failover support
Highlights
Layer 7 traffic control and monitoring

Smart connect technology

Two radios with MU-MIMO and higher wireless speeds
Special Features
The dual-core processor that's part of this VPN router, gives you fast performance over a large coverage area. Each router has 4×4 802.11ac wave 2 radios that are equipped with MU-MIMO. The smart connect technology gives you a quick switch from using maximum speed to being able to reach farther ranges within your house.
Connections
The VPN router is accelerated with layer 7 traffic control and monitoring. This VPN router also allows you to carefully monitor and filter content through the parental control features. So while your entire library of technology may be able to connect, it's not a free for all when it comes to the information coming into your house.
Performance
The VPN router works to connect your devices to the VPN network even as you move throughout the house. It also connects and switches between the 2.4Ghz and the 5Ghz based on your signal strength. This is a good middle ground VPN router and will give you good service for your devices and home.
Pros
Fast speeds

Large coverage area

Easy to configure
Cons
More expensive than other routers on the market
Ideal for Game Enthusiast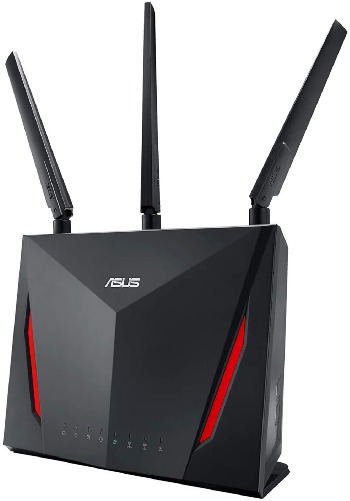 ASUS has their hand in a wide range of technology markets and their VPN router has been proven to be a high-quality investment for anyone looking to purchase one of the best VPN routers for their home or business. The built-in protection gives you safety from any external attacks and threats and removes them before they even reach your network.
Specifications
Dual-band, 2.4GHz, and 5GHz

Latest 802 technology

MU-MIMO for data transfer up to 2900 Mbps

Trend Micro protection
Highlights
ASUS router app lets you set up your entire system quickly

Fast speeds for lag-free gaming

Trend Micro protects from external attacks
Special Features
One of the biggest and brightest features that makes this one of the best VPN routers is the Trend Micro technology that isolates and protects your network and devices from external attacks. It then neutralizes them before they reach your network.
Connections
Easily adapts to work with any type of operating system and connect them to the VPN network. By connecting everything through the ASUS app, this makes for one of the best VPN routers on the market.
Performance
The overall performance is optimal for a VPN router but there have been reported issues of it being difficult to set up. It reaches a wide range in almost any size house and keeps up the fast speeds from end to end. The featured Trend Microtechnology is one of the best to keep your information safe and your VPN status up to date.
Pros
Large coverage area

Affordable price

Included protection for information
Cons
Not as secure as other routers
Top Tri- Band Gaming Router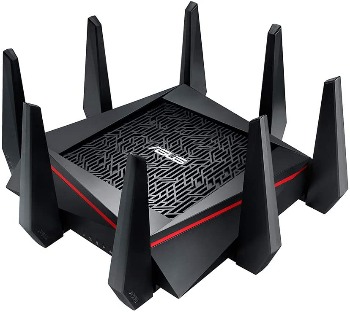 This is another ASUS VPN router that specializes in providing one of the best quality gaming experiences Just like with other ASUS routers, this one is equipped with Trend Micro technology so your data and network are protected from outside attacks! It has quickly become one of the best VPN routers on the market.
Specifications
5GHz

5300 Mbps

Tri-band for larger coverage
Highlights
Multi-stage protection that detects vulnerabilities and saves sensitive data

Switches between bandwidth to provide consistent service

Allows for low, stable ping times for quality gaming
Special Features
This VPN router is one of the best and a gamer's dream come true! It covers a large area so you get high-level service no matter where your set-up is in the house. It's protected by Trend Micro technology that gives you multi-stage protection by detecting vulnerabilities and sensitive data. The router routinely switches between the three different bandwidths to give you a consistent speed for low ping speeds.
Connections
This VPN router works with every type of operating system including Windows, macOS, and Linux systems. One of the best features of this VPN router is that it connects across three different bandwidths which, as its switching, gives you a consistent speed for gaming and connectivity.
Performance
Multiple devices connected to this router have seen no slow down for speeds and connectivity when using the ASUS router. There have been reports that the setup for this router takes longer than others on the market. But if you're willing to put in some time getting it all set up, this VPN router can do wonders when gaming and streaming large volumes of content.
Pros
Three different bandwidths switch to provide consistent coverage

Wide-ranging coverage area

Offers low ping speeds for gaming
Cons
More expensive than other ASUS routers
Best High Speed Gaming Router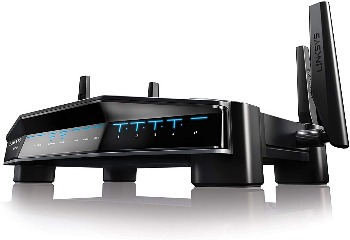 If you want to game and do it fast with low ping speeds, this is one of the best VPN routers and it can do wonders for your gaming! With a unique specification, the router identifies and prioritizes the gaming traffic over everything else in your house so your ping is reduced.
Specifications
Killer Prioritization Engine

Simultaneous high-speed data processing

3200 Mbps

Dual-band
Highlights
Killer Prioritization Engine promotes gaming traffic above all else

Each connected client gets its own dedicated data stream

Enables Tri-Stream 160 so channels are tripled
Special Features
One of the most unique features of this VPN router is the Killer Prioritization Engine that puts gaming information and data at the forefront. This reduces the peak ping you'll see by 77 percent. By accelerating the gaming network traffic and allowing each user to have their own data stream frees up more data and bandwidth so your speeds are never slowed down no matter how many users are on the system.
Connections
This VPN router automatically synchronizes with Killer enabled PCs like Alienware, Gigabyte, MSI, and Razer. Once devices are connected, they each get their dedicated data stream which allows multiple users to be on the system without slowing it down or fighting for bandwidth on the VPN router.
Performance
When dedicated to VPN, this router has been shown to max out the internet connection and keep all of your data secured. The software has been reported to be slightly lacking but this VPN router will keep your ping rates low without much of a fuss. The price is higher than other Linksys products but you can use the features to block IP addresses that tend to lag and slow down your system.
Pros
Dedicated gaming VPN router

Allows for dedicated device bandwidth

Killer system synchronization
Cons
More expensive VPN router

The software included isn't high-quality
Extreme WiFi Signal Router
No matter what you're doing online you want your VPN router to protect your data and network while also allowing for fast speeds all across your home. This D-Link router comes at an affordable price while giving you a fast home network perfect for streaming and surfing the web.
Specifications
Dual-band speeds

4×4 data streams

3150 Mbps

Fast wired and wireless speeds
Highlights
Advanced AC SmartBeam technology tracks your connected devices and enhances WiFi speeds and range

Easy installation

QoS traffic optimization gives seamless performance for applications
Special Features
SmartConnect on this VPN router gives you the best possible bandwidth no matter where you are in your home. The AC SmartBeam tracks those connected devices and makes sure that it pushes enhanced speeds and ranges to the devices as you move throughout the network.
Connections
This VPN router works to give you extremely fast wired and wireless speeds so no matter how you choose to connect you'll go fast. The WiFi signal is spread to multiple devices with MU-MIMO technology. With the fast speeds and large data streams, you're able to enjoy 4K/HD streaming and online gaming simultaneously while the VPN protects your sensitive data.
Performance
This is not a heavy-duty VPN router like others on this list. The range is shorter and certain aspects of the bandwidth have been reported to stop working within a short amount of time. When all aspects of the bandwidth are working, this VPN router can stand up to the best of them while not costing customers an arm and a leg.
Pros
Affordable option

Simultaneous streaming and gaming

Dual-band connection
Cons
Updates slow down the connectivity
Ideal for Parents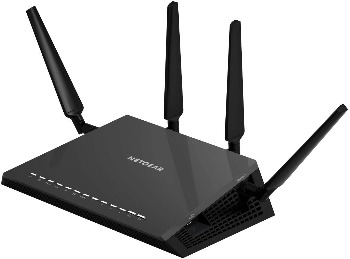 Netgear has been a leader in the router market and has dipped its toes into the VPN router game with the Nighthawk. Offering fast WiFi speeds, the VPN router protects all of your sensitive data while you stream online, play games, and connect all of your smart home devices.
Specifications
Dual-band

1733 Mbps

Large coverage area

Up to 45 devices
Highlights
Can handle up to 45 devices

Simultaneous dual-band WiFi connection

Nighthawk app allows you to control device content
Special Features
This VPN router can handle a lot! Recommended up to 45 different devices that allow you to stream, surf, and game to your heart's content, you can also wire in directly to the router for advanced VPN protection and high-speed connectivity.
Connections
In addition to the VPN connections and security, this router also offers WPA2 wireless security, guest WiFi access, and firewalls to keep your data secure and safe.
Performance
In addition to keeping your data safe, this VPN router will keep your connection speeds up. It offers solid speeds across a wide range in your home. The 5GHz side of this router has been known to stop working but the 2.4GHz bandwidth works well and keeps transmitting for fast and secure speeds.
Pros
Works with up to 45 devices

Easy to set up and control with the Nighthawk app

Wired in access available as well
Cons
5GHz has been known to stop working
Best for Seamless Gaming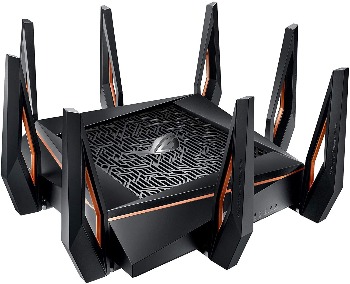 Jump straight to the top of the pack with a router that does it all! This ASUS is a heavy-duty VPN router that safely encrypts your data and offers up speeds that put other routers to shame.
Specifications
11,000MBps

5GHz bandwidth

Tri-band technology
Highlights
Triple level game acceleration to push game traffic to the forefront

Support for open and advanced monitoring

AiProtection security neutralizes internet threats before they enter your network
Special Features
This is a heavy-duty VPN and gaming router that offers optimal and high speeds while still pushing gaming traffic to the forefront. It accelerates game traffic with game server prioritization. The gaming network with this VPN router meshes with ASUS compatible home WiFi and features AiProtection that keeps your data safe from internet intrusions.
Connections
This ASUS VPN router is backward compatible and supports current and past WiFi devices for whole-home connectivity.
Performance
This is a heavy-duty VPN gaming router and comes with a price tag to match. If you're doing lots of online gaming and need the bandwidth, this is an investment worth making. Overall this VPN router gives you high-quality speeds and range but may require some periodic updates to continue working at top speeds.
Pros
High-level speeds across the entire range

Gaming acceleration

Tri-band technology
Cons
Common Terms
Encryption: converting data into an encrypted form that hackers and threats can't figure out.

IP Address: unique numerical address you're given when connecting to the internet.

Router: networking device that forwards data packets between computer networks

VPN: Virtual Private Network
Frequently Asked Questions
What is a VPN router?
Most routers and VPN routers support pass-through functionality so the user on a remote computer passes through the router and connect to the VPN server. A VPN router makes the connection at the hardware level for the entire site without needing to have individual software installed. All devices that use the router can then connect to the VPN.
Which routers support VPN?
Any routers allow you to connect to VPN through your devices but upper-level VPN routers like the Linksys and D-Link routers listed above are perfectly calibrated and connected to the VPN. Some of the best VPN routers will offer speed and stability throughout the home.
How do I enable VPN on my router?
Launch an internet browser from your computer or mobile device that's connected to your router's network. Select advanced setup and VPN service within that set up and enable the VPN through that setting. Once there you can specify any VPN service settings.
Takeaway
If you're just starting with your business or home network, a typical router will allow you to easily connect to your VPN. But if you're carrying lots of volume or connecting tons of different devices, a solid VPN router will give you added security without having to connect the individual to your VPN.
A VPN router is an investment but if you're concerned about the security of your network and information, investing in one is worth your time and money!