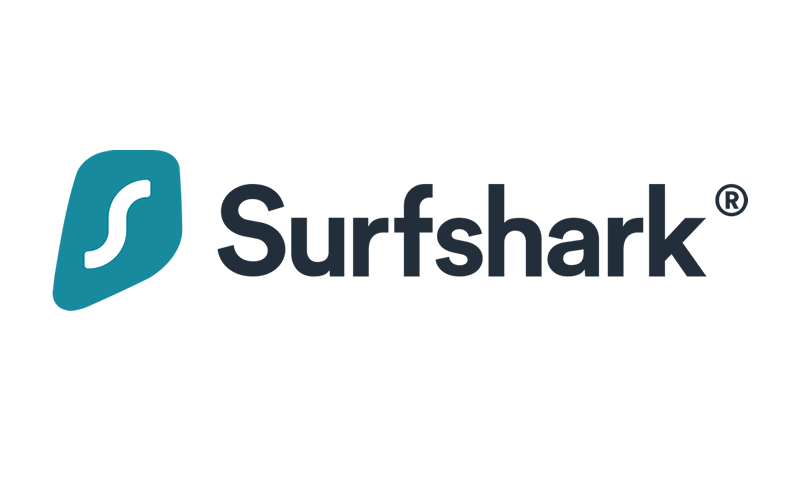 | | |
| --- | --- |
| VPN | Surfshark |
| Location | British Virgin Islands |
| Support | 24/7 Live Chat |
| Refund | 30 Days |
| Servers | 3,200+ (65 Countries) |
| Login | Unlimited Devices |
| Open DNS | Yes |
| Wireguard | Yes |
| Website | Surfshark.com |
Let's be honest, Surfshark has great reviews so we wanted to knuckle down and get to the bottom of the amazing feedback. We put it to the tested speed, security, different locations, reliability and the apps it supports. The results were eye opening.
Surfshark VPN (Virtual Private Network) is designed for speed and security.
The Surfshark app installed on your computer or router to make your Internet and data secure while using the Internet. You can Surfshare at the Google Play Store, Apple Store, or Windows Store as well as at Surfshark Direct where you can download it directly.
People use Virtual Private Networks for a variety of reasons. Some users live in countries with restrictive Internet and information policies and need a VPN to access information and communication with the outside world. Many people simply want privacy that their Internet provider and basic software cannot provide.
Getting your personal information or credit card number stolen is a time consuming and potentially expensive pain to deal with. A VPN like Surfshark can provide the more solid ability to remain anonymous online and significantly reduce the risks of identity theft and finding weird charges on your credit card.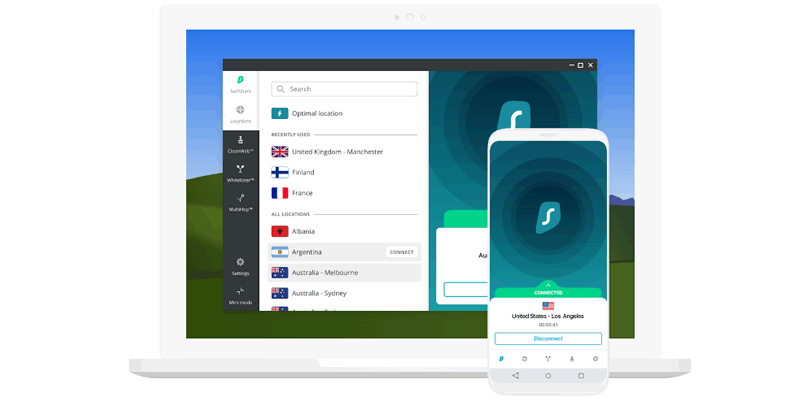 More and more people are using VPN's like Surfshark for a variety of reasons, whether they are tired of overly personalized ads, want to prevent identity theft, want to access content that is otherwise illegal in their country, or just to ensure privacy.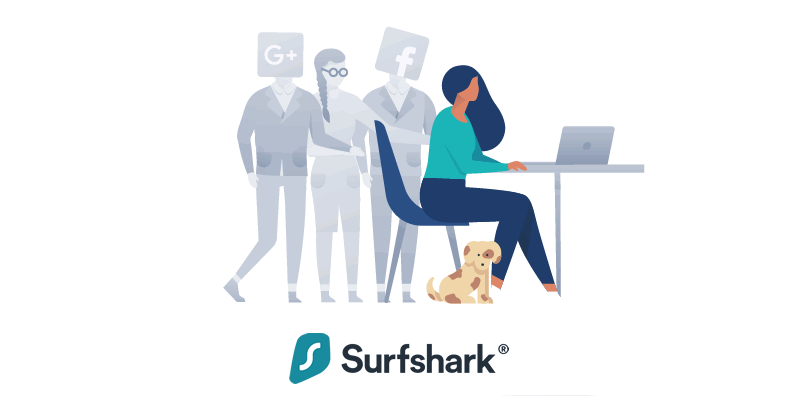 This article discusses many of the technical benefits of Surfshark Virtual Private Network. We discuss the many features of this VPN with considerations for your potential concerns about VPNs. We also recognize that some users may have varying skill and knowledge levels about both VPNs and technology, so we offer a frequently asked questions section as well as definitions for commonly used terminology.
What Platforms Can Be Used?
Surfshark offers more platforms than most VPN's. Their broad range of apps and devices includes Windows PC's with Chrome and Firefox browsers, Mac computers, Android with tablets and phones, Apple tablets and phones, which are common. It also offers fairly rare VPN access to Fire TV from Amazon and Xbox and Playstation. Instructions are available on signup, see the full list is below.
| Desktop & Laptops | Phones & Tablets | Browsers |
| --- | --- | --- |
| macOS | iOS | Chrome |
| Windows | Android | Firefox |
| Linux | Consoles | Trust DNS |
| Smart TVs | Xbox | |
| FireTV | Playstation | |
| Apple TV | | |
| Other TVs | | |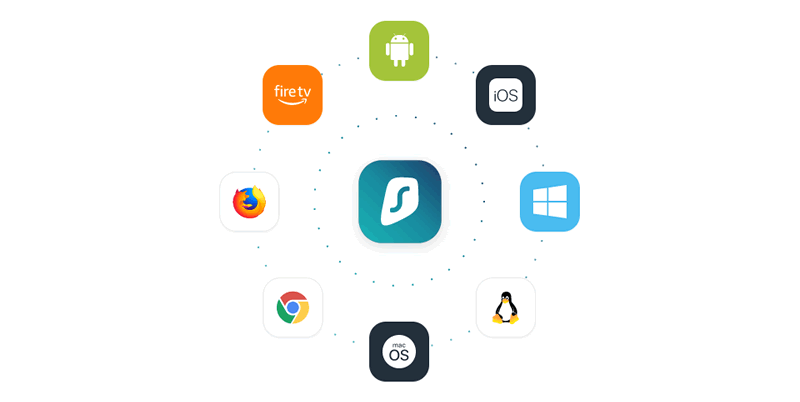 Data Logging
Surfshark explicitly states they track nothing about what users do within their VPN. User concerns would normally include IP logging, browsing history, session info, network data and other data. This VPN doesn't keep any of the information about your session.
It also only collect the IP and unique device numbers when visiting their site without Surfshark. The app itself does not collect this information. In the event Surfshark were forced to hand over data about an individual's surfing session, the information would lack any discernable information to make the user's identity available. It does need your email to sign up, but a user can open a burner email for the purpose.
This VPN is located in the privacy friendly British Virgin Islands, where local laws do not require a company to keep logs. To make their service even better and more anonymous, Surfshark also lets users pay with Bitcoin and other cryptocurrency so your data is unknown even to them.
In order to verify that Surfshark does hide the information you wish to hide, we did test their service using a variety of web servies that normally expose your unique IP or DNS address. The good news is that using this VPN, our leak tests did not expose our PC's IP, which is a common problem amongst cheaper and free VPN services with the protocols commonly used to stream a video chat or Netflix.
Features & Highlights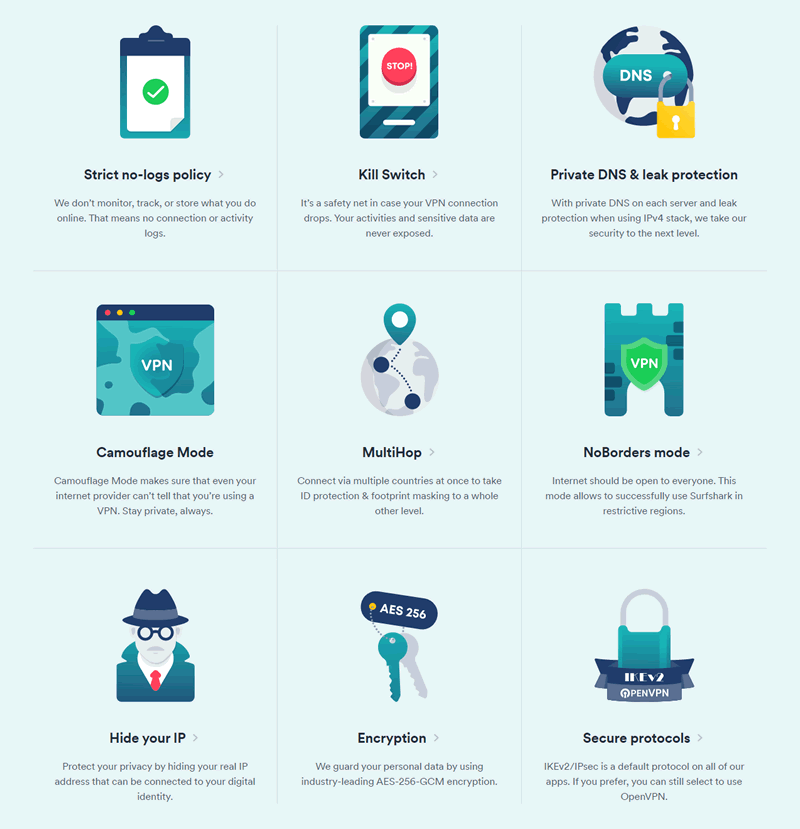 Pop up blocker
Surfshark offers CleanWeb, a unique in-VPN pop up blocker not offered by many VPN providers. CleanWeb allows you to block Facebook video ad rolls as well as YouTube ads.
Whitelist
There are some sites that won't allow you to use a VPN, mostly banks. Keeping in mind that many users browse with multiple tabs and browsers, Surfshark makes it possible to access a friendly site like your local bank in a VPN free tab while using other secure tabs through Surfshark. Simply tell it which urls and addresses are safe and you will be able to freely surf to the right sites that require personalized data.
Camouflage
Sometimes you don't even want your ISP knowing what you are doing. Camouflage mode prevents your ISP from seeing your Internet activity. Some VPN provides do not protect you from your own ISP when an ISP can readily send you a letter about torrenting, or give in to demands about your surfing history.
Unlimited Devices
Most major VPN providers have a limited to the number of devices an account can use at a time. Surfshark does not. Any number of devices can access their VPN's simultaneously. Your entire household or business can keep data safe and secure.
Independent Audits
Surfshark's own site compares their product to make others in regards to safety audits. Safety audits ensure that a third party company has assessed a VPN's ability to actually keep information safe, often by other security companies who are experts in the vulnerabilities of VPNs and the important of privacy and data networks.
Location Spoofing
Android users can enjoy anonymous locations with GPS spoofing. Surfshark recently added the ability to change where your phone appears to be located. This makes surfing and actual GPS tracking even more anonymous.
Locations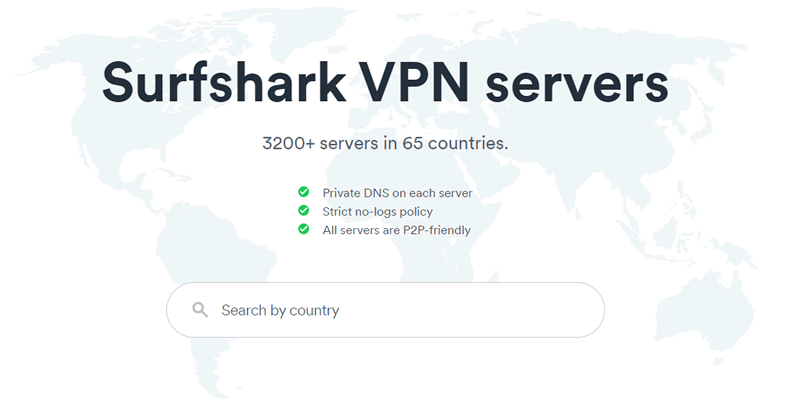 Offering many locations is very important for a VPN, as offering a different location can be the basis for needing a VPN. This VPN offers 64 countries with servers, which is above average. While many companies ignore locations like Africa and South America, Surfshark offers VPN services there too. Surfshark is also offered in countries known for their repressive internet policies. Users who want to surf outside their countries walls in countries like Russia, China, Turkey, and Vietnam have been known to use this type of VPN to find the things they want on the Internet.
Some VPN companies also offer virtual servers. Virtual servers are located in machines that likely have other software on them, possibly including competitive VPN software and arent owned by one company. The VPN company cannot guarantee the hardware itself is safe. While many VPN companies like Surfshark offer virtual servers to meet demand in some areas, this VPN offers 4 of them and are clear about which servers offer the benefits and risks of a virtual server.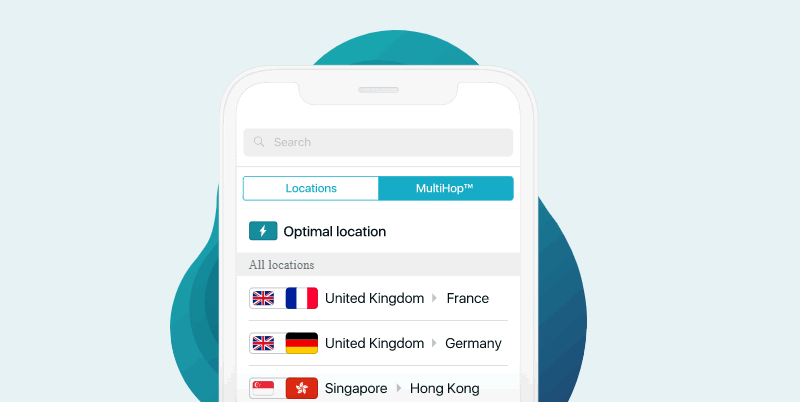 Surfshark also recently made their server network RAM only. What does that mean? RAM is a temporary data storage. Their computers don't use hard disks that store your data permanently. In the event of a breach, the data is dumped. So let's say you aren't in a country with a repressive Internet policy – why would you want to connect to a server in Japan or Europe? Many users use VPNs like Surfshark to gain access to country specific content on streaming services like Netflix. While most streaming platforms offer a tremendous variety of video content, they also restrict based on language and without a VPN, you cannot access with a US based IP. With it, the videos you researched that are only available with a physical connection in Japan are now viewable. Surfshark offers a total of 1,724 servers and growing.
It does not offer the most servers of any VPN program, but they offer a greater variety of countries, stable speeds, and a good price for the purpose.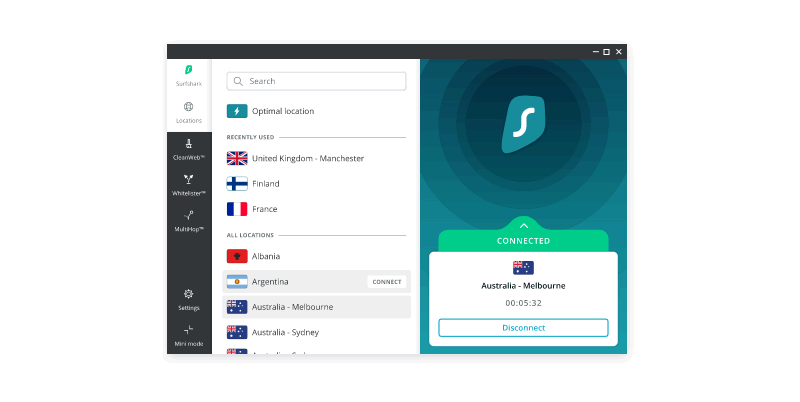 Updates
Surfshark does well updating with the times, especially in the rapidly evolving world of data and encryption. Their software is updated frequently and recently included Wireguard with ChaCha 20. Funny name aside, ChaCha20 is the latest and greatest to combine high security with high speed. Except Surfshark to keep up with changing requirements and technologies.
Smart Switches
Surfshark is really easy to use for any purpose. Advanced users can select the location they wish to use, but most users won't need that, and would rather their VPN makes a few decisions for them. It can help decide which servers are fastest for your torrent download and automatically switch to the best server for the purpose.
Connections
Some companies cut their VPN connections to five per users. Surfshark allows for unlimited devices on your account. You can connect your Surfshake with literally every available device in your household possible, and then some.
One unusual connection feature within Surfshark is called Multihop. Multihop connections use multiple VPN servers to bounce data back and forth, making data even more difficult to track by anyone watching, though it does come at the cost of some speed.
Surfshark also understands your surfing habits based on the apps and URL's used (without acknowledging that it's you) and can change you to servers based on your needs.
Encryption
Surfshark uses AES-256 which is the same encryption used by the government.
According to Surfshark's site, there is no way to decrypt AES-256 data. In case you were wondering, encryption effectively keeps others from listening to your connection between the websites or programs are on by providing a VPN "tunnel" that only the VPN and the website can see. This VPN has what amounts to a "decoder" that only their server and their app within your device understand.
Protocols include IKEv2, OpenVPN, and Shadowsocks. IKEv2 is used for connecting to nearby servers, OpenVPN is an open sourced software for longer distanced servers, and Shadowsocks was developed specifically to work against Chinese firewalls and is only used in those situations. Users can depend upon Surfshark to use new and updated protocols for the purpose of sending encrypted data. Surfshark generally offers the most advanced encryption available without sacrificing speed.
Performance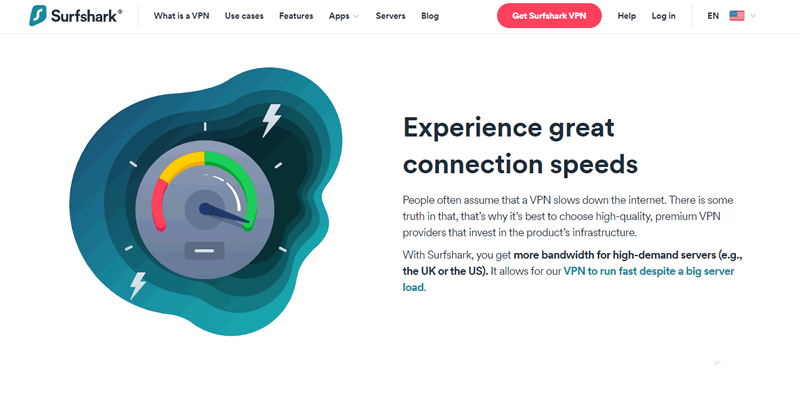 Among user concerns when signing up, and especially paying for a VPN like Surfshark, is speed. A customer can pipe in 100 megabytes per second into their home, but that speed won't matter if their VPN doesn't process it quickly, and no one wants buffering for Netflix or, slow downloads of large documents.
Thankfully, speed tests have been done indicating that while yes, your speed will be slower when having your Internet data encrypted by Surfshark and sent to your computer, the slowdown is not significant enough to alter your ability to stream your favorite show, download a torrent, or just surf the web. To give raw numbers, the average speed on It is around 40 megabits per second and gets slower as the user connects to VPN servers across the globe. At an average of 20 megabits in Asia, users should still have enough to stream videos in high definition.
To get more technical, a user should expect their speed to drop by 15% to 30% while using Surfshark. A speed drop is completely expected of a VPN. Nearly all home and business Internet connections are more than suitable to still be highly usable with a VPN performance drop. During said speed tests, the network speed was mostly stable. Netflix didn't buffer and the opening of a high definition video conference call started a bit slow but quickly went as expected. More importantly, Surfshark blends performance with access. Programs like this are less useful if they offer more speed with less access, but Surfshark offers unblocking for most streaming programs and uses a built in pop up blocker to keep ads from disrupting your stream.
In-home security – install in your router
Surfshark has the fairly unique ability to be installed directly on your router or modem. The process is not all users though it does offer some significant advantages and disadvantages.
Advantages
Constant VPN protection for all associated devices
Fewer installs
Protect your guests too
Works for devices that you can't actually install a VPN with
Disadvantages
Usefulness depends on the router
Harder to change settings
Harder to install
Connection between router and device is no longer secure
Surfshark's own site offers it's own several step process depending on whether or not your router is VPN ready. The Surfshake setup process also offers info about how to generally install VPN software on a router as a public service answer, while of course trying to explain how Surfshark is a good product for the purpose.
Consider installing a VPN like Surfshark in your router if you want to apply the same approach for security to all your devices. This will alleviate worrying about an individual altering security settings on one device.
Customer Service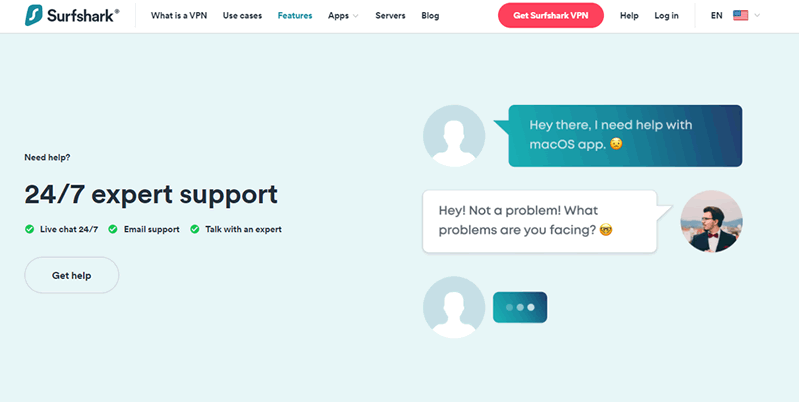 Companies that transport and hide your data, customer service is quite important. Surfshark offers 24/7 customer service with an average wait time of less than a minute and highly engaging and knowledgeable chatters. They also offer email support as well as a complete website for frequently asked questions. Their customer service is quite complete and should have customer's of their software confidence.
Money Back Guarantee
Surfshake has a fairly unique and generous money back guarantee for a VPN software. Surfshark allows to claim a refund within the first 30 days of using their service. They allow a second refund if you cancel again within 6 months of your initial cancellation. This VPN clearly values longer term users and wants to ensure users are happy within the first six months.
Many VPN providers offer a free trial or money back guarantee. Few offer a free 7 day trial in addition to two opportunities to get a refund like Surfshark.
Surfshark VPN Pros and Cons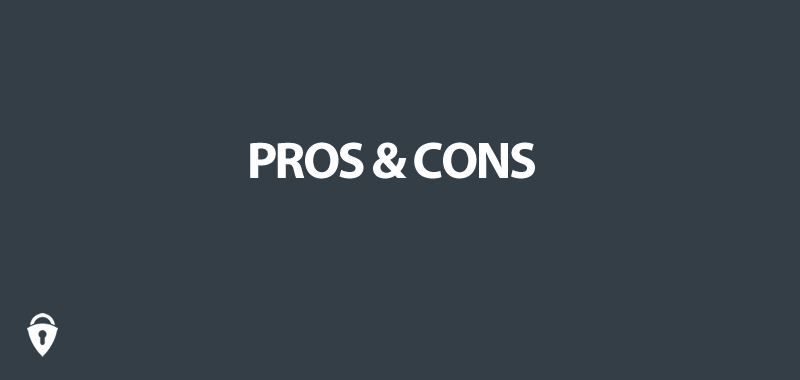 Any program has it's up and downs and Surfshark is no exception. Here are some of it's best parts and pain points:
Pros
Surfshark had one security audit in 2018 by Cure53, in which it received high praise. While most users including ourselves appreciate the audit, computers and softwares are found to have new vulnerabilities constantly. Other VPN software's audit their programs yearly and we wish it would provide more recent assurance and their software is bulletproof.
Surfshark also offers CleanWeb as the pop up blocker. While it does effectively work to block in video ads, pop ups, and display ads while surfing.
Surfshark is also one of the only VPN programs out there with a real global presence. Many services do not offer a connection in India, South America or Africa. This VPN does and at a consistent speed too.
Not all VPNs are available on most popular devices. Surfshark offers an unusually large range including Amazon FireTV and Apple TV. In addition to being available for many devices, It is very unique in allowing an unlimited number of devices on an account. Do you have a smart TV, Windows PC, Apple laptop, Amazon Fire TV, Android phone, Apple tablet, and Apple TV? Good news! They can all be on the account at the same time.
In terms of cost, Surfshark is not only fairly cheap for both one month and a longer term, they offer a free 7 day trial to make sure you like the software first. Surfshark VPN's refund policy combined with their free trials are a great duo.
This VPN also keeps costs low by not offering live phone help.
Surfshark offers a "killswitch" which turns off the VPN program if exposure is detected.
Cons
CleanWeb lacks the customization as dedicated pop up blockers freely available for Chrome and Firefox.
While Surfshark attempts to offer excellent torrent speeds while using a VPN, some might not be happy with their download rate. Some users had resorted to whitelisting torrent programs to speed up downloads, which doesn't help with the privacy they desire.
Users can't simply call Surfshark with an issue. While we previously stated that their chat program works fine, some users would prefer a voice at the other end of the phone. Many VPN's offer only email through their websites or chat, so this isn't a problem exclusive to Surfshark.
Some customers also feel like Surfshark needs a more detailed privacy policy. While they affirm in their security policy that they don't log data, they don't mention how their entire policy works in a clear, understandable way that will reassure the most privacy intensive users.
Finally, while available for Linux, Surfshark doesn't pair especially well with the operating system. Linux only offers 102 servers in 61 countries. More worrying are leaks. Without advanced Linux knowledge, they tend to leak info which is the opposite of the intent of a VPN. We generally don't recommend Surfshark for Linux unless you know Linux well.
Frequently Asked Questions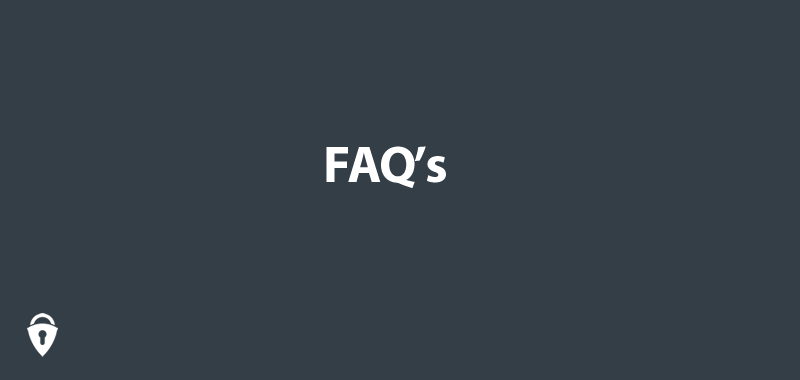 Is Surfshark a good VPN?
A good VPN is the one that works best for you and protects your data while keeping up with your need for speed. Surfshark's encryption and speed can handle your business or leisure surfing while keeping your data safe from prying eyes.
Is Surfshark Free?
Like most VPN programs that are worth your time, Surfshark is not free. It's also not very expensive, with single month rates at $12.95 per month and rates dropping for purchasing 6 months and year long usage. Additional privacy features outside mostly involving search engines come in at about an extra dollar per month. Surfshark cares about your privacy for payment methods too. They accept cryptocurrency, so you don't need a credit card with address to pay for this VPN.
How do I connect to Surfshark VPN?
Surfshark is pretty easy to use in regards to making a connection. They offer quick connect which connects you to the fastest local server depending on your need. The software itself walks you through the permission's the app needs on your phone and computer so that you aren't left needing technical mastery to access the Internet. Selecting a server allows you to connect and use Chrome, Firefox, and many of the streaming apps that Surfshark works with to access the content you want. In terms of actual ease of use for the app, it is highly flexible. Smaller screens and will show fewer options with more expandable menus. You can always resize the window to see more options.
How do I disable Surfshark?
Turning off this VPN is readily accessible within the app and offers a straightforward uninstall process. Also, if Surfshark's VPN network fails, there is a "killswitch" that automatically turns off the connection to keep your private data from flowing through public networks.
Does Surfshark hide your IP address?
Yes. Surfshark itself does not collect your IP address or make the information available for others. Surfshark is located in the British Virgin Islands. Please note, since we brought it up, that when researching a VPN, be sure their company is headquartered in a place with privacy protection laws. A VPN located in a country that allows their government to legally demand info about a user makers the VPN basically worthless.
Is Surfshark Reputable?
Surfshare is fairly new to the VPN game with their service launching in 2018. They have earned an excellent reputation and growth through sites like Trustpilot.
Does Surfshark offer other services?
Aside from Cleanweb, this VPN also offers Hacklock and Blindsearch. Hacklock constantly looks at the Internet to see if your email address or other personal info was included in a data breach. Blindsearch offers a non logging but effective and unbiased search engine. These services are generally inexpensive at about $1 per month.
Common Terms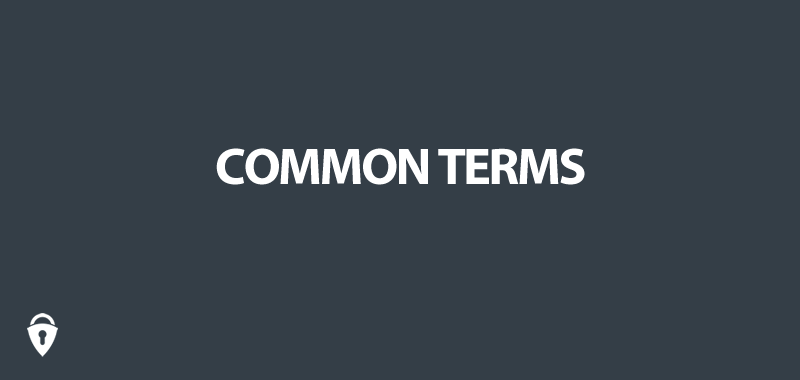 Don't quite know what some of our acronyms or words mean? Here's a explainer.
Virtual Private Network, or VPN
A VPN allows you to create a secure connection to another website. VPN's can either be intentionally restrictive in corporate settings, or simply allow for private data to stay private with VPN programs like Surfshark. VPN's are highly useful for work, play, and private browsing, including surfing on otherwise public WiFi networks.
Wifi
To make a long story short, WiFi is short for Wireless Local Area Network." Your home and maybe office are powered by WiFi if they don't have a cabled connection to the router. Surfshark will actually send data through your WiFi. Wifi is only as secure as your router makes it – we also discussed installing on routers earlier.
Router/Modem
Your modem is a physical box, often with flashing lights. The model translates the Internet data that comes from the cable company, literally through your walls with a coaxial cable. Your router broadcasts that message throughout an area using the WiFi signals mentioned above. In many cases, the modem and router are the same device to save space.
Encryption
Encryption means that VPN services servers and the software on your PC only communicate with one another. Using a blend of numbers, Surfshark's data looks like nonsense to anyone but the Surfshark program on your device. This is great for users and bad for anyone trying to see and read your data.
Torrent
A torrent is a file shared through a peer network. VPN's are often used for downloading torrents because most torrent downloads are of copyrighted material like movies, computer programs, TV shows, and music, and are illegal to exchange. A VPN used on a torrent means that the torrent file provider has no idea who is downloading the file.
ISP
Internet Service Provider: Your Internet service provider is the company that sends Internet data to your house. Programs like Surfshark keep even your ISP from knowing what you do on the Internet.
Internet Protocol, or IP address
The IP address is a unique identifier your computer uses to access the Internet. Your ISP has assigned your IP so that data knows where to go, and to know your location. VPNs like Surfshark ensure not even your ISP knows what you are doing online by making the incoming and outgoing info private.
Whitelisting
The opposite of blacklistings. Allowing some Internet traffic to come directly to you instead of through your VPN is usually the result of wanting a faster speed, the connection not allowing a VPN, or the data not mattering.
Great Firewall of China
Not one of the ancient wonders of the world. The Great Firewall of China prevents their users from accessing many websites, social media, and communications platforms. One of the primary purposes of a VPN like Surfshark is to reach both inside and outside of the artificial borders created by a country's oppressive Internet policies.
Conclusion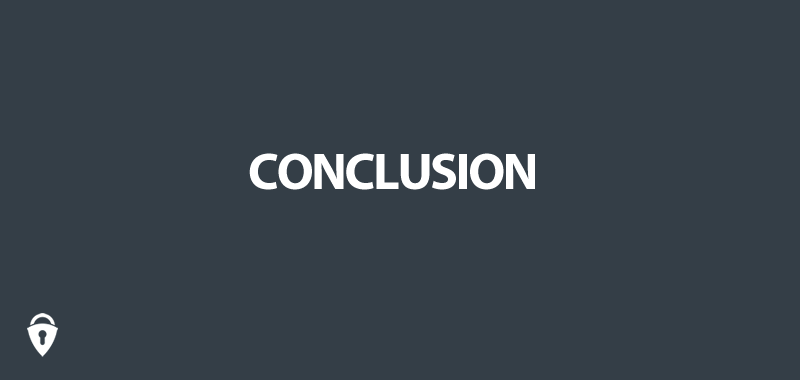 Now that you've learned a lot about Surfshark VPN, you can make a more informed decision. Internet security is more important than ever with people more able than ever to gather your sensitive info and use it for their benefit. Surfshark VPN can help with parts of the problem by ensuring your information is not traceable back to you
We hope our review has lead you in the right direction regarding the weaknesses and strengths of Surfshark. This VPNis an outstanding option for users concerned about data privacy with the highest encryption level currently possible. Speed is mostly a non issue with their fast, consistent servers when using anything but Linux.
Some users who like to leave nothing to chance might object to the static IP provided, but most wiil be truly satisfied between the actual performance of Surfshark and their money back guarantee and pricing plans.